10 Tips for Transforming Your Nursery Into a Toddler Room
By Tabitha St. Bernard-Jacobs
It seems like it was only yesterday when I brought my little baby girl home from the hospital and she promptly and joyfully took over every inch of our lives. She was such a wee thing and, as a pandemic baby, time moved both super fast and crushingly slow. As we all do, I really wanted to cherish those yummy baby moments but she, much to my utter shock, grew. I realized it might be time to upgrade her room into a toddler room right around the time I caught her with one leg over her crib railing, struggling (and almost succeeding!) to climb out. And yes, we still delayed it for a couple of weekends (a toxic mix of denial and exhaustion) until we finally faced facts and switched her room from a nursery to a toddler room. 
We've learned quite a bit from the process and I'm dishing all of my top tips with you so you're well prepared when you reach that milestone.
1. Take the time to prepare your little one for the change.
Having a toddler room can be a big deal for your child. Make room for their feelings and plan ahead to process it with them. Use short sentences when explaining the change to them and move around the room to talk through the changes with them. I explained to my daughter that, "It's time for a big girl room!" and asked "Do you want to help with your big girl room?" Kids tend to process adults' words better when they're in short, concise sentences. I then walked her through the changes with awe and excitement on my part to get her in the mood for it all. 
2. Little helping hands can help them feel part of the process. 
For most of her life my daughter slept in a wooden crib that could be converted into a toddler bed. When my partner pulled out the trusty drill to do the conversion, she was right there with us, handing him screws and toddling around her room. Find ways to incorporate them in the process of the change. When your kid feels like they're a part of the process, it's less likely to be shockingly jarring for them to make the change.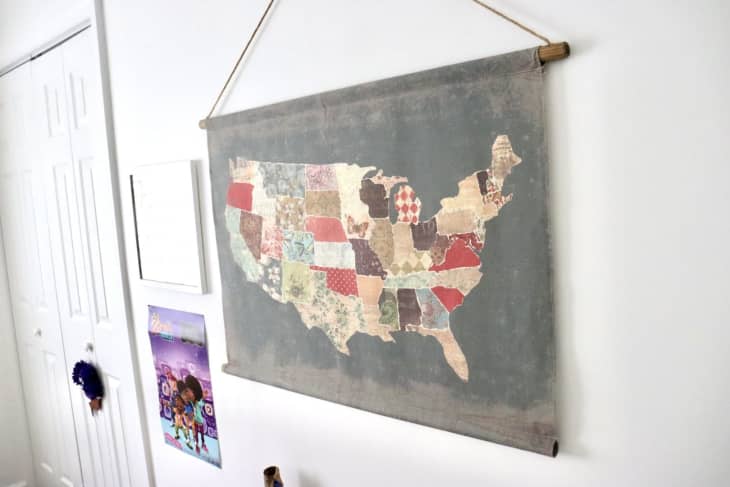 3. Reuse some items to keep parts of the room familiar to your kids.
Changing from a nursery to a toddler room can be a big change physically and also emotionally. As much as you can, try to reuse some parts of the room so that your kid feels at home in their new space. I had an old fabric map from my older son's room that was on her wall from her first night in her room. I kept it right there to offer some grounding in what's familiar. I also chose not to switch out her bedding so she was still able to cuddle with her trusted blanky and stuffies. Her crib was secondhand and we chose one that would convert to a toddler bed at some point. These comforting mainstays can make a big difference. 
4. Save money by using items from other parts of the house. 
Before I made the switch over, I scoured the house for things that would be fun to place in her room — things that would seem new to her but wouldn't add any extra cost for us. I grabbed a floor cushion from around our fireplace (we never use the fireplace) and an old breastfeeding pillow and added them to her room for comfort. She uses one next to her bed just in case she falls out in the middle of the night. I saved money and reused perfectly good items. 
5. Their room, their choice! Time for them to pick their own decor!
It was so much fun to pick the art for a nursery but there comes a time when the designer hat has to be handed over to the owner of the room. When my daughter's room became a toddler room, I incorporated things related to her interest on her walls. She has a Karma's World poster up on her wall at eye level and she has a growing collection of art from daycare on another wall. My daughter's old family pictures from her last school year go right up on the wall next to her bed. We also added in a cute drawing her brother did that tells her how he feels about her. I still kept the drawing of Maxine Waters up because that is vital to life but she is having fun seeing her kid-sized art taking on new meaning around her. 
6. Explore their favorite color in their new space. 
Most kids love color and, by toddler age, they already know which one is their fave. Whether it's painting a part of the wall or adding a new book shelf or simply a piece of art they create, let them guide the color process. It's their room after all. 
7. It's time for them to discover their inner artist.
At this age, your little one is already a brilliant artist. If you're like me and love the scribbles but don't always think them wall art worthy, consider putting out a watercolor set with colors that match the decor of the room and let your child loose with a paintbrush and canvas. Add a nice frame, write in their name and the date, and you've got a beautiful original piece of art as well as a keepsake to add to their room.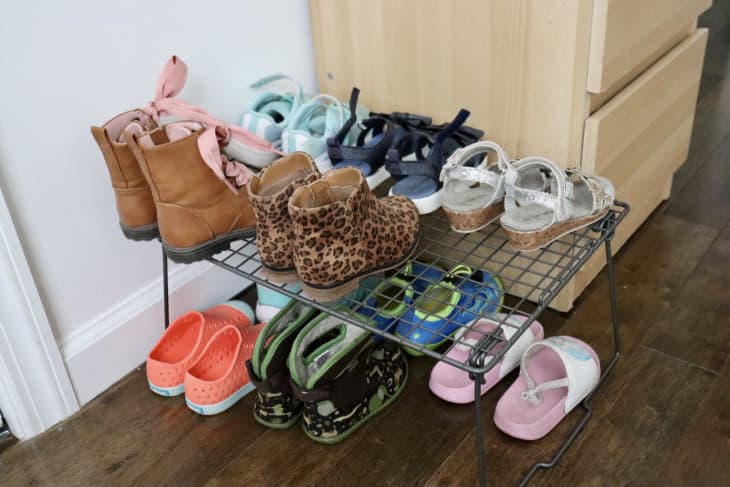 8. Add elements at their eye level to encourage independence.
My daughter loves picking out her own clothes (unicorns all day every day!) so she likes to see all her clothes to choose what she wants to wear. I didn't want to get rid of her trusty chest of drawers so I simply switched her clothes to the lower drawers so she could see them. I also placed her shoes, all 20 pairs of them, on the floor on little shelves — yes, this means that she changes shoes at least once or twice a day — but she also knows which spot each one belongs in and puts them right back where they belong. For her closet, I put stacks of sweaters on the shelves above the clothing rack so that she could see it all and point to what she wants. Each one of these minor changes leads to more independence, confidence and autonomy. 
9. Make a big deal out of moving into a big kid bed. 
We learned that making a big deal of the switch over of her bed helped my daughter get excited about it. Our positive attitude helped set the tone for her approach to it. We asked her what kind of bed she wanted and, of course, it's unicorns all the way for her. Instead of buying a new big kid bed, we decided to let her decorate her converted toddler bed with stickers. We also let her name it. So every night, she's super psyched to get into The Unicorn Bed. The switch over has been surprisingly easy, with zero tears. 
10. Create a reading corner and stock the shelf with books that will nurture a love for reading. 
We're big fans of reading in our family. A love for reading can be nurtured from a young age by designating a quiet space where kids can explore books on their own. It can be as simple as placing a floor cushion (yes, from another part of the house) next to a stack of kids books on the floor. We mix my daughter's favorites like Minnie Mouse and Daniel Tiger with books that feature people from a range of nationalities, experiences, and ethnicities. This corner is also a revolving door for library books. After bath time, we give her independent time to explore these books and then join her to read a few. She loves her reading nook! 
The milestone of a toddler room is a big one! If your little one isn't over the moon with excitement, that's a-ok, too. Make space for big emotions and pour on the love. Eventually, they'll realize that getting older can be fun and making choices about one's space is a great way to get there.